New installations, policy targets, increasing investment and more jobs, made 2015 a record breaking year for renewable energy, according to recent reports on the sector.
An estimated 147 gigawatts (GW) of renewable power capacity was added last year, the largest annual increase ever, while renewable heat capacity increased by around 38 gigawatts-thermal (GWth), shows the REN21 Global Status Report.
Global investment in renewable power and fuels also climbed to a new record of USD 286 billion, more than double of the amount allocated to new coal and natural gas fire power generation capacity.
Clean energy investment has been weighted increasingly towards solar energy (accounting for 56 per cent of the total) and wind power (for 38 per cent). All the other technologies saw investment decline relative to 2014.
Christine Lins, Executive Secretary of REN21, said: "What is truly remarkable about these results is that they were achieved at a time when fossil fuel prices were at historic lows, and renewables remained at a significant disadvantage in terms of government subsidies. For every dollar spent boosting renewables, nearly four dollars were spent to maintain our dependence on fossil fuels."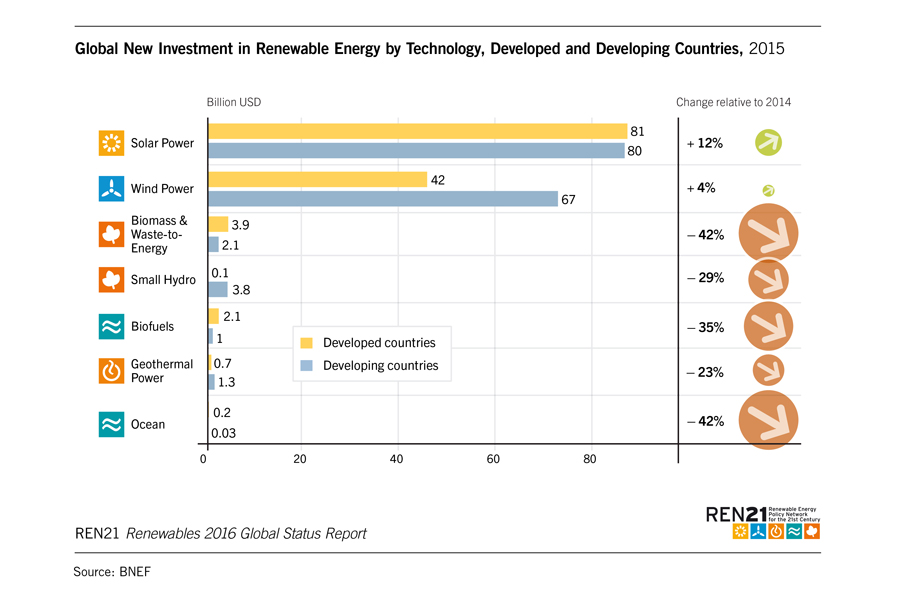 For the first time in history, developing countries surpassed developed countries in total investment in renewable power and fuels, with China accounting for more than one third of the global total. Along with India and Brazil, these three countries committed a total of USD 156 billion (up 19 per cent compared to 2014).
Renewable energy investment also increased significantly in South Africa, Mexico and Chile. Other developing countries investing more than USD 500 million in renewables in 2015 included Morocco, Uruguay, the Philippines, Pakistan and Honduras.
But developed countries seem to be slowing down the investment in clean energy, with the exception of the United States. In 2015, investment in developed countries as a group declined by 8 per cent, with the most significant decrease in Europe (down 21 per cent to USD 48.8 billion). On the contrary, the United States witnessed an increase of 19 per cent to USD 44.1 billion, the country's largest growth in dollar terms since 2011.
Employment in renewable energy was also positively affected in 2015, with a 5 per cent growth compared to 2014. Across the world, more than 8 million people are now employed in the clean energy industry (adding another 1.3 million jobs if hydropower is included), according to a report from the International Renewable Energy Agency (IRENA).
Adnan Z. Amin, IRENA's Director-General, noted that this growth is significant given that it stands in contrast to trends across the broader energy sector; the total number of renewable energy jobs worldwide rose in 2015 while jobs in the broader energy sector fell.
In the United States for example, renewable energy jobs increased by 6 per cent while employment in oil and gas decreased by 18 per cent. Likewise in China, renewable energy employed 3.5 million people, while oil and gas employed 2.6 million.
"This increase is being driven by declining renewable energy technology costs and enabling policy frameworks. We expect this trend to continue as the business case for renewables strengthens and as countries move to achieve their climate targets agreed in Paris.", said Mr. Amin.
Although trends are generally positive, there are still several challenges that remain to be addressed if governments are to fulfil their commitments to achieve a global transition away from fossil fuels.
Arthouros Zervos, Chair of REN21 points out that: "The renewables train is barreling down the tracks, but it's running on 20th century infrastructure – a system based on outdated thinking where conventional baseload is generated by fossil fuels and nuclear power."
In order to accelerate the transition to clean energy, a more flexible system built upon decentralised and community-based generation is needed, he concluded. canada goose sale