Located in Vitoria-Gasteiz, the "Palacio de Congressos y Exposiciones Europa" is a multi-purpose venue for fairs and conferences. It also has a multi-use area for events for 1,000 people or commercial exhibitions for more than 60 booths.
Designated the 2012 European Green Capital because of its biodiversity and integration of greenspace into its urban fabric – in particular its Green Ring – Vitoria-Gasteiz is the capital city of the Basque Autonomous Community and of the province of Álava in northern Spain.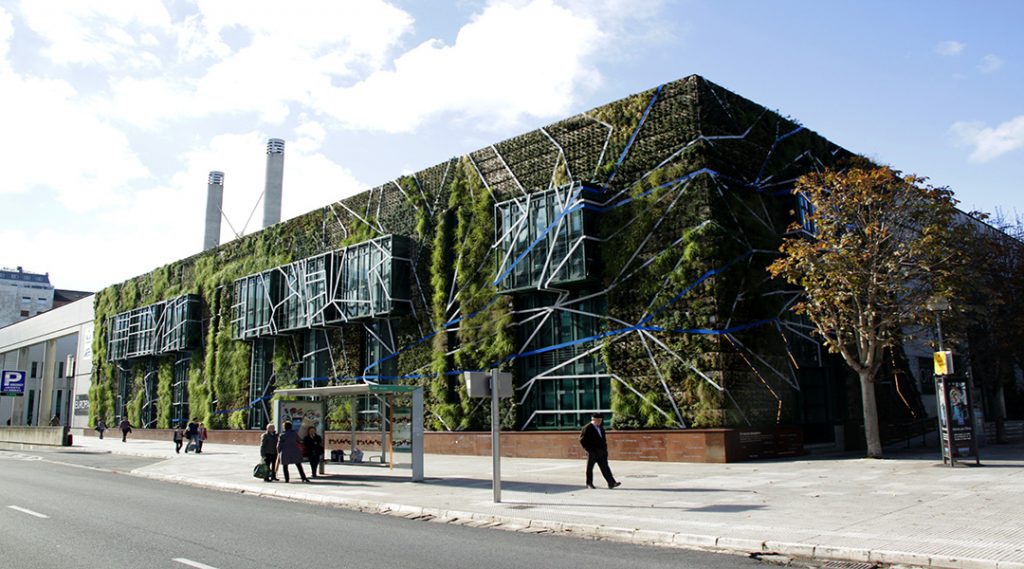 In an effort to bring Álava's ecosystems to the center of the city, in 2013 a large greenwall was designed and installed on three sides of the building by Urbanarbolismo and SingularGreen in association with Urbaser and Zikotz. Encompassing a total vegetative surface of 1,492 m2, 1,000 m2 consist of a F+P hydroponic system and 492 m2 of climbing plants that cover the windows. Over 33,000 native plants of different varieties were planted from the area of Álava and the Basque Country.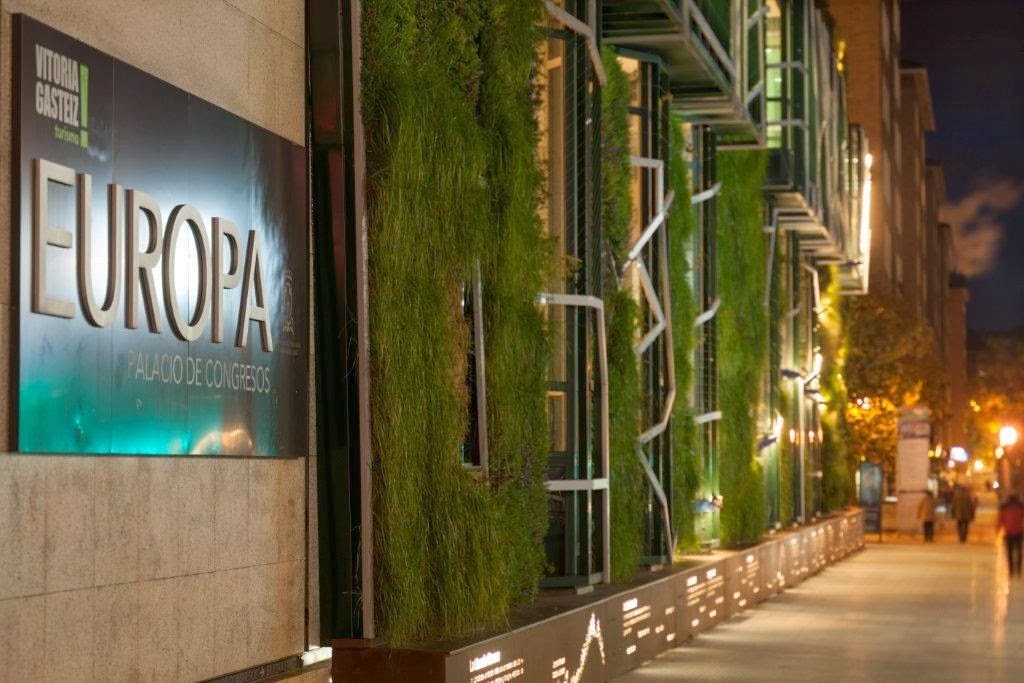 Another primary motive for the beautiful and distinctive Palacio de Congresos living wall was to capture energy savings. The "f+p preplant" system adds a thermal resistance of 2,644 m2.K/W, representing a 270% increase over the existing facade insulation.
The design draws on the ecosystems that exist in the vicinity of Vitoria-Gasteiz and represents them along the length of the facade. From left to right are the vegetative communities of the "Humedales de Salburua" – the Salburua wetlands; countryside agricultural field plots; loamy hill ecosystems; and the beech forests of the local Vitoria mountains.
At the base of the greenwall a continuous backlit Corten steel seatwall integrates informative signage, allowing visitors in both Spanish and Basque to learn about the various ecosystems that are reproduced in the vertical garden along with the plant species that comprise each. 97% of the species used in the vegetated facade are indigenous to the area, many of them endemic of Álava. According to the designers, this is the first vertical garden that reproduces native ecosystems from the area where it is located. cgparkashop