Danish architectural firm EFFEKT designed a future where self-sustaining communities could grow their own food and produce their own energy: ReGen Villages.
"ReGen Villages is engineering and facilitating the development of off-grid, integrated and resilient neighbourhoods that power and feed self-reliant families around the world," explains James Ehrlich, Founder of ReGen Villages.
ReGen stands for regenerative, where the outputs of one system are the inputs of another. The concept has a holistic approach and combines a variety of innovative technologies, such as energy positive homes, renewable energy, energy storage, door-step high-yield organic food production, vertical farming aquaponics/aeroponics, water management and waste-to-resource systems.
"ReGen Villages is all about applied technology. We are simply applying already existing technologies into an integrated community design, providing clean energy, water and food right off your doorstep," says Sinus Lynge, co-founder of EFFEKT.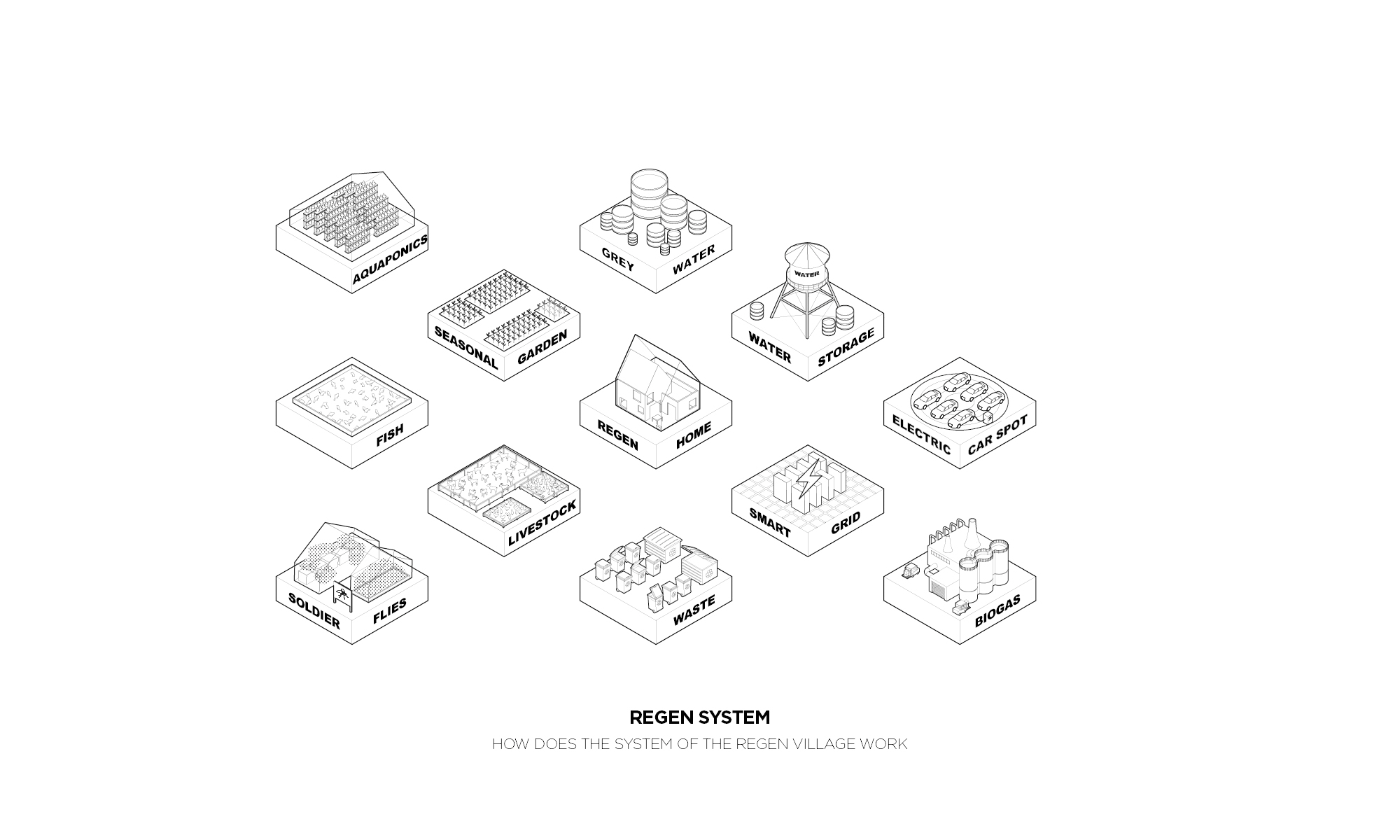 With the integration of such technologies, ReGen Villages holds a potential in changing some of the challenges of a growing population, increasing urbanization, scarcity of resources, the growing global food crisis as well as reducing the global CO2 emission and reducing the burdens on municipal and national governments in dynamically changing planetary and economic times. But ReGen Villages is not only about reducing environmental impact and national burdens. It is also about creating. Creating a better model for a sustainable future, where the current living standards can be sustained by thinking smarter, not only smaller. A model that adds not only environmental and financial value, but also social value by creating the framework for empowering families and developing a true sense of community, reconnecting people with nature and consumption with production. An eco-system that also restores high biodiversity in the surrounding landscapes due to a significant smaller production footprint.
"We like to think of ReGen as the Tesla of ecovillages. We want to make it easy, convenient and accessible to choose a sustainable lifestyle off the grid," says Sinus Lynge, co-founder of EFFEKT.